Fat Fest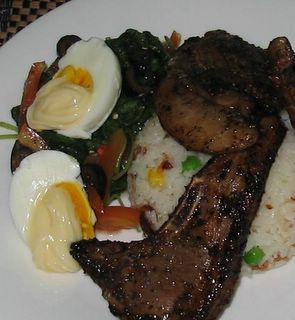 Chargrilled Chops with Dijonnaise Eggs Served on Buttered Rice

Chargrilled Lamb Chops
1.5kg lambchops
A few dashes of balsamic vinegar(optional)
2tbs of thick dark soy sauce
2tbs honey
1tbs coriander+cumin powder(optional)
0.25 cup of fresh mint(optional)
2tbs plain yoghurt(optional)
Salt and pepper
Whizz everything except the meat. Smother the rubbing paste onto the chops and marinade overnight. Plonk'em on the grill to desired taste. To be eaten with Mint Jelly.
Dijonnaise Eggs
Hardboiled eggs
Mayonnaise
Dijon Mustard powder
Combine mustard and mayo according to personal taste. Halve the eggs and pipe the dressing on top.Garnish with chives if you like.
Buttered Rice
Hot cooked rice
Butter
1 tsp Chicken stock granules
Fried Shallots
Cooked mixed vege
Mix everything up well and serve.