Miso Nikomi Udon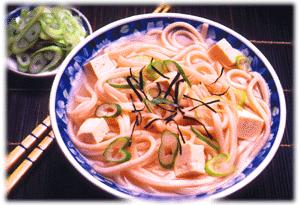 White Miso Udon With Tofu, Leeks and Nori

Made some for myself today. Can be included in your low fat, lazy lunch repertoire.
1 1/2 handfuls of Store-bought, vascuum-packed Organic Udon noodles, get the firmest variety
2 tsp Store-bought White Miso Paste, the original recipe requires the darker and stronger tasting Haccho Miso but it does not go down well with my connoissuer-wannabe palate.
Vegetable stock or you could buy bonito buillon, or even better use 2 tsp dashi granules
Thinly sliced young ginger
Thinly sliced leek or scallions
Fried Tofu or soft egg tofu whichever you prefer
Nori( Dried seaweed)
Some water
*Nippon ingredients are sold at city center Isetan and Cold Storage outlets.
Bring water to the boil, and lower heat. Add stock and whisk in your miso paste. Throw in young ginger and tofu while the soup gently simmers blissfully. At this point if you may want to throw in some seafood/beef/shitake mushrooms for added bite. Otherwise put in sliced leek or whatever mild tasting vegetables you can find in your fridge. Check for taste. Add water if the miso is too strong. It is important to note that the soup should not be brought to a boiling point. Doing so will deconstruct the miso. Throw in your thick noodles when you are ready to eat. Garnish with nori slivers. Cosmetically and gastronomically satisfying when served with tempura.
Sumimasen, miso nikomi udono torikeshite kudasai
Waiter, kensel la itu udon
.
Nasi Lemak o onegai shimasu.
Bawakkan aku nasi lemak sudah
.
Gochisoo sama deshita.
Timaseh, sedap makan kat sini
.
Note: I know this is a cheater's recipe with all those store bought ingredients but at least you know how economically easy it is for you to make it at home.