Asam Pedas
I have thought of this dish but always have not gotten the chance to cook it. As I like asam pedas with ikan. Apparently, sang suami tak suka makan ikan. So I always cook asam pedas but with chicken instead of fish. Sesiapa yang interested dan ingin tahu macammana untuk memasak asam pedas, here it is.

Tip : semakin pekat semakin ummphh!!!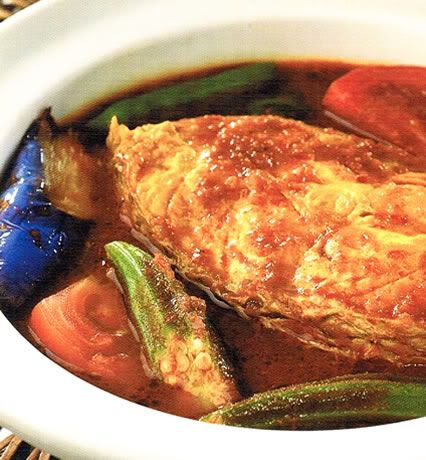 This picture was taken off the website (to entice you!). Tomato and terung can be used.


Bahan yang dikisar
1 1/5 ulas bawang besar
2 ulas bawang putih
1 inchi halia
2 inchi lengkuas
10-15 batang lada kering
2 inchi kunyit hidup
sedikit lada hitam, jika suka (ada yang masukkan ia ke dalam periuk tanpa mengisar, terserah masing2)

1 batang halia, dititik
sawi masin, jika suka (tidak payah dibubuh garam jika digunakan)
seekor ayam, atau ikan yang mana anda suka
sekati bendeh
sebatang terung
seibu jari asam jawa atau 2-3 keping asam keping
daun kesum secukupnya
garam secukupnya
minyak secukupnya
sedikit air

Panaskan periuk dan masukkan serai sehingga naik baunya.
Masukkan bahan yang dikisar dan masak sehingga garing (sampai bau dia best gitu!).
Masukkan air asam dan sedikit air(jangan terlalu cair).
Biarkan ia mendidih dan masukkan ayam/ikan dan sawi masin dan masak sehingga ayam/ikan itu masak.
Jika tidak menggunakan sawi masin, bolehlah masukkan garam secukup rasa dan daun kesum.
Masukkan bendeh dan terung, setelah ia layu, matikan api dan jamulah selera anda :)

*Ada juga yang suka memasukkan daun kesum selepas menumis serai...terserah masing2.